Story link: http://www.goodnewsindia.com/index.php/Supplement/article/lessons-from-daurala
GoodNewsIndia
presents...

Lessons from Daurala


Since 1932, factories of the DCM Shriram Group have sat on the banks of river Kali at Daurala, about 14 km north of Meerut, in western UP. Laid out over 300 acres, their factories produce sugar, liquor, pesticides, fine chemicals, drug intermediates and textiles. Abundance of water in western UP was the draw. For over sixty years there had been no one to check the pollution -nay, poisoning- of air, water, fields and the people.


Then came Janhit Foundation and turned the matter around in just two years. In a country where we throw up our hands and walk away, lessons from Daurala are worth imbibing.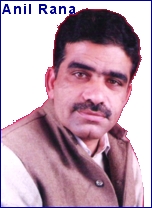 Though he was a native of Meerut, Anil Rana, now 44, did not realise until 1998 that his true work lay in his own back yard. He was teaching English at Kurukshetra University and enrolled to pursue a PhD at the Jawaharlal Nehru University. Instead, he was indoctrinated there by the company he kept, on the importance of environment. Switching careers, he returned to Meerut and started the Janhit Foundation to promote non-chemical farming.

Water rich western UP could live with chemical abuse for many decades. Daurala's factories were in fact getting rid of their effluent water, by passing it off to farmers as enriched water. Over time, as pollution increased and water became unusable for agriculture or even drinking, it got to man. Once a robust people, people of Daurala began to sicken often. And they began to die in greater than normal numbers from previously unknown diseases.

Poor families were spending over Rs.300 per month on medical bills. They had exhausted immediate avenues of redress and learnt to live with constant eye irritation, skin disorder, gasteritis and neurological problems. Water looked and smelt foul and 174 hand-pumps were abandoned.

It was a classic equation that plays out all over India even today. The offender is able to buy out lower and middle level officialdom. Quite a few of the poor, labour as his employees and lose their will and voice. Handpicked strongmen in the village society are primed with money. In places like UP there is the additional threat of exemplary murders. What's new, you ask? What can one do faced with such odds? Let's look at what Anil Rana's Janhit did.

First he went over and met the villagers to ensure that they indeed wanted assistance. "Without people wanting action you get nowhere," he says. Which implies sadly, that redress will only follow suffering in many parts of India for a very long time; just governance will not naturally occur. He then educated himself on the support resources that he could draw on. He found there were many for those willing to seek. The Centre for Science and Environment in Delhi was one. They conducted a study of Daurala's water in 2002 and declared it unfit for humans and animals.

Humanistic appeals to the DCM Group based on those figures failed; they disowned all responsibility. That's when Rana wisely decided to bypass the polluter and officialdom, and sought other forces to muster. He found that an Indian, contrary to his habitual claim, is not without help. His casual connection with Toxics Link, led him to the Blacksmith Institute in New York. This organisation brings pressure to bear on polluters worldwide. It's founder Richard Fuller and Peter Hoskings visited Daurala in 2004, surveyed the scene, met stone-walling DCM officials and counseled Rana to get a fresh, independent study done by an IIT. Blacksmith Institute paid over Rs.4.00 lacs for the study. So good-money came to face off big-money.
IIT-Roorkee's study damned the DCM Group at Daurala. They found significant amount of lead, aluminium, nickel and even cyanide in the water sources in the vicinity of the factories. This time, Rana chose not to confront the polluter with the findings. He ignored them and let loose Janhit staffers and volunteers to survey the health profile of the village.

Surveyors stomped the village and collected data on every household and its health issues. Close to 15,000 people were surveyed and of them a fourth had health complaints. Between 2000 and 05, 54 had died of cancer. The village's outgo for medical reasons was close to Rs.10 lacs a month. At the time of the survey, there were 14 cancer patients, 1,007 with epidermal ailments, 89 with neurological disorders, 77 with cardiac problems and about 1,000 suffered from asthma, high blood pressure and arthritis. The survey data was so thoroughly compiled that DCM had no deniability room. Even then Rana did not confront them directly.
Instead, he raised the decibel level with a booklet entitled, 'Daurala: Hell on Earth'. It was loaded with facts and contained a list of demands. Janhit sent out 1,000 mails, contacted every member of parliament, petitioned the Supreme Court's Monitoring Committee on Hazardous Waste Management [- did you know such a thing existed?], and sought the press.

A few of the politicians - that much reviled tribe- rallied in support. The Blacksmith Institute went online with a credible statement on Daurala. The National Human Rights Commission took suo moto notice of a press report on Daurala and directed the UP government to respond on the matter. The office of the Principal Scientific Advisor to the Government of India wrote asking for a copy of 'Hell on earth'. After 70 years of disdaining all authority, in just a year after the Janhit campaign began, DCM felt the heat.

DCM sought a meeting with the people of Daurala. At the meeting in September 2005, there were 40 people present including two directors from Delhi and two local general managers. The demands made were the same as before.

Stop by-passing the effluent treatment plant; upgrade it and use it round the clock
Install a reverse osmosis system for local drinking water needs
Stop incinerating cyanide drums
Raise the chimney height
Shift the fly ash dump to a far location
Desilt the captive waste water ponds
Build and pay for the running of a full-fledged medical centre
Plant a minimum of tree thousand trees whose roots can impede leaching
Allow 'any-time' inspection by village authorised committee
Provide gloves and masks to workers.



Six months down the line Rana declares himself reasonably satisfied with the company's response. Many of the demands have been met and there is evidence, he says, the company is sincere regarding others. A three member citizen committee has been formed to liaise and monitor compliance. He says Janhit will carry out fresh testing after a year to verify improvement.

Success at Daurala has woken up other activists in western UP. Rana himself has turned to mapping Hindon River's degeneration. Many have hailed the Daurala Model. Well, what is it? Simply put, it amounts these invariables: mobilise people, have facts verified credibly, don't exaggerate or threaten, marshall all non-governmental support and ignore local level collusions.

Yet another observation is difficult to resist. Globalisation may be inevitable and often evil. For example, DCM group companies and many others in India are contract manufacturers of chemicals considered too hazardous for the West. But the Internet, satellite TV and Blacksmith Institute are also products of globalisation. It is early days still and so advantages of capital seem to lie with the powerful. But the costs of fighting them are also coming down. Capital did flow to Janhit from New York. The focus in the globalisation-debate may have to turn from rants, to disseminating the means to fight dominance and oppression.

______________


Anil Rana, Janhit Foundation

D-80 Shastri Nagar,

Meerut -250002, UP

Phones:[0121] 2763418, 2602753, 0-9412706850 [Mobile]

email:


Website: http://janhitfoundation.org/water.htm